1/4 Gemini Saga Statue with Digital Sound System, Saint Seiya (ST13)
---

Limited to 300 pieces worldwide
Estimated Release Date: Dec, 2019
Price: USD 790.00
Deposit: USD 390.00
Estimated shipping charge: USD320.00 (Ref: N. America)
Final shipping charge will be quoted to customers before final payment
The Estimate Released Date is for reference only. Final Release Date will be updated at this website from time to time. Release Dates are subject to change.
Subject to final approval. Prototype shown, final product may be slightly different. Product details can subject to change without further notice.
---
Kids Logic is proud to present the first Gold Saint from Saint Seiya - ST13 1/4 Gemini Saga Statue with Digital Speaker. Saga disguised himself as the Pope and was the first Gold Saint that was introduced in the story along with Leo Aiolia. Saga is often described by other characters as someone with the kindness of an angel but with the darkness of a demon. This ambivalence ended up creating a split personality: a good Saga that was extremely loyal to Athena, and an evil one that keeps control of the body most of the time and killed the previous Pope to steal his place. His famous attacking techniques include

Galaxian Explosion, Another Dimension, Demon Emperor Fist etc.
Followed by the gorgeous ST09 1/4 Armored Athena Statue, this 1/4 Gemini Saga Statue is the second one in the product line this year. With the big scale of 50 cm tall, it might be the largest scale of Saga's merchandise in the world so far. As Saint Seiya fans, we pay attention to every detail of the sculpture and we apply our experienced painting technique to perform the strongest metallic painting effect on the gold armour of our First Gold Saint - GEMINI SAGA.
This is absolutely a must-have item for all Saint Seiya collectors.
Special thanks to Studio HIVE for all the great creative concept designs of the 12 Golden Saint in this project. Stay tuned to the coming ones …
---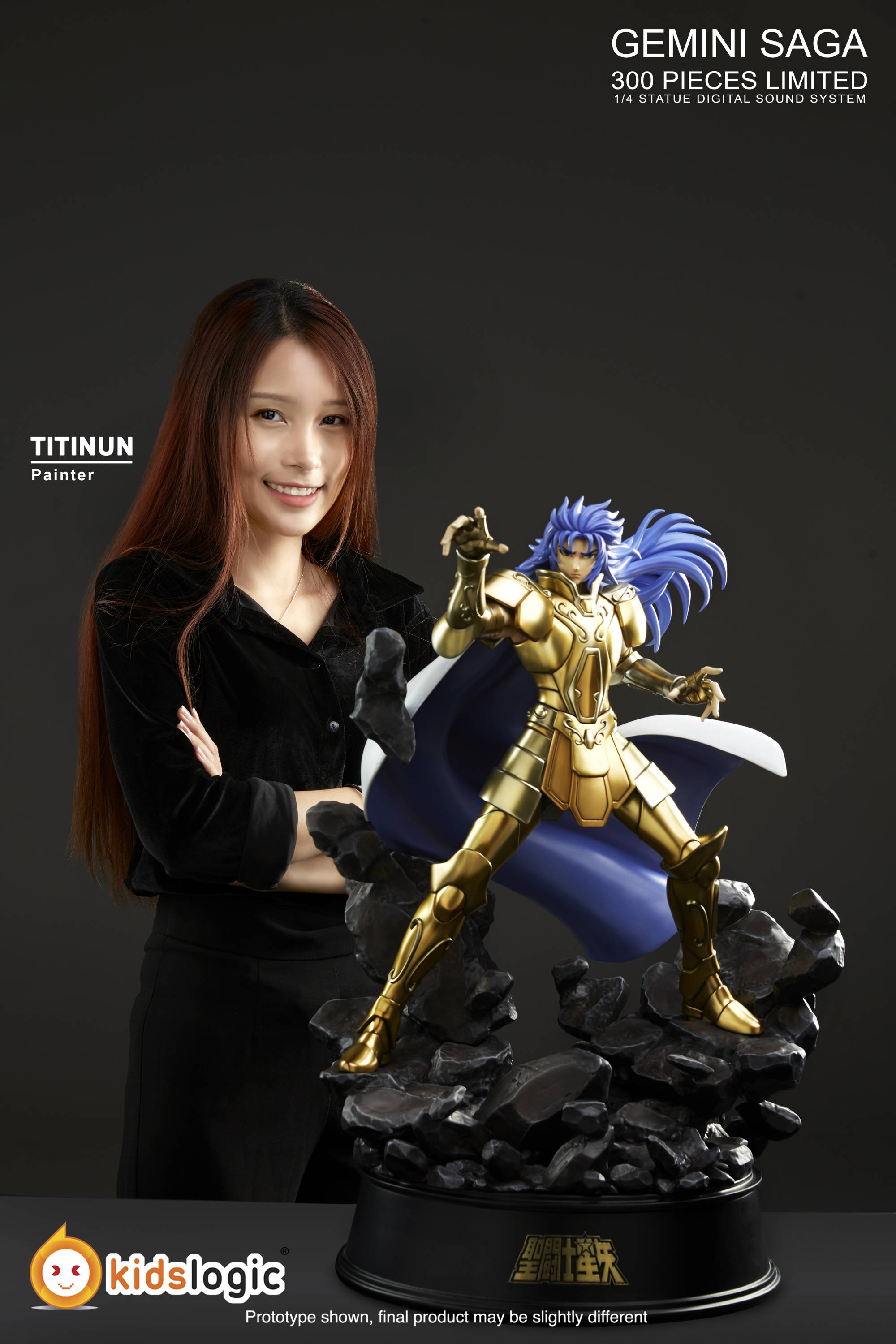 Features:
Figurine Dimension: 32 (W) X 35 (L) X 47 cm (H: Height of Gemini Saga)
Stand Base Dimension: 35 cm (Diameter) X 24 cm (H: Height of the Base)
Weight: Estimate 15kg
Material: Polystone, Resin, PVC, Metal Parts
Detail Painting: Metallic Painting Effect, Weathering Effect
Wireless Digital Sound System at the stand base of the statue
Development Team
Creative Director: Kenneth Kan
Concept Design: Skan Srisuwan @ Studio HIVE
Sculptor: Wandah Kurniawan
Prototype Painter: Titinun
Photographer: One Shot Studio
Production Manager: CM Wong
Painting Controller: Mick Lee

Licensed by: Toei Animation Enterprises Ltd.
---
What payment options can I choose? And what about payment schedule?
Two payment options: 1. PayPal; 2. Stripe. Generally speaking, both options accept major credit cards such as VISA, MASTER and Armerican Express. We accept USD only.
Payment schedule:
1. Deposit of USD580 has to be paid at check out.
2. The rest of USD1400 will be collected before shipment is ready. Actual shipping rate will be calculated before shipment. For example, the estimated Fedex shipping cost to North America is about USD 450 (for volumetric weight 50kg). Please expect to settle these two payments before shipment.
Which shipping agent do you use? How much does it cost?
Fedex or UPS; Door to Door services
Can I cancel the order? Is the deposit payment refundable?
We are sorry that all pre-orders cannot be cancelled. Deposit is not refundable. Please make up your mind before placing your order.
When should I pay the final payment?
We will email all customers a confirmation letter before shipment. Customers will be noticed about the final payment amount and confirm the shipping address with us.
Can I get an update of your production progress?
Yes, please click "UPDATES & COMMENTS" tab and check our BLOG page of the related product. We will update the production process from time to time.
Do I have to pay import tax?
Please note that our company is located in Hong Kong. All shipment will be shipped directly from Hong Kong to your address. We include shipping invoice in each shipment with actual retail price listed, and the product category will be declared as "Adult Collectibles". For certain countries, your customs may charge you for imoport tax. All import tax will be handled by customers themselves. Thanks a lot for your understanding.
How long is the warranty?
Warranty excludes damage resulting from abuse, accident, modifications or other causes that are not defects in materials and workmanship. Warranty service for eligible repairs is available at no charge for six months from the date of product received.
What happen if my shipping address is changed after pre-order?
We will confirm the final shipping address with all customers when they settle the final payment. Please make sure your registered email is still valid so that we can reach you that time.