Robotech Macross VF-1S 1:6 Cockpit Diorama Digital Sound System (ST09)
---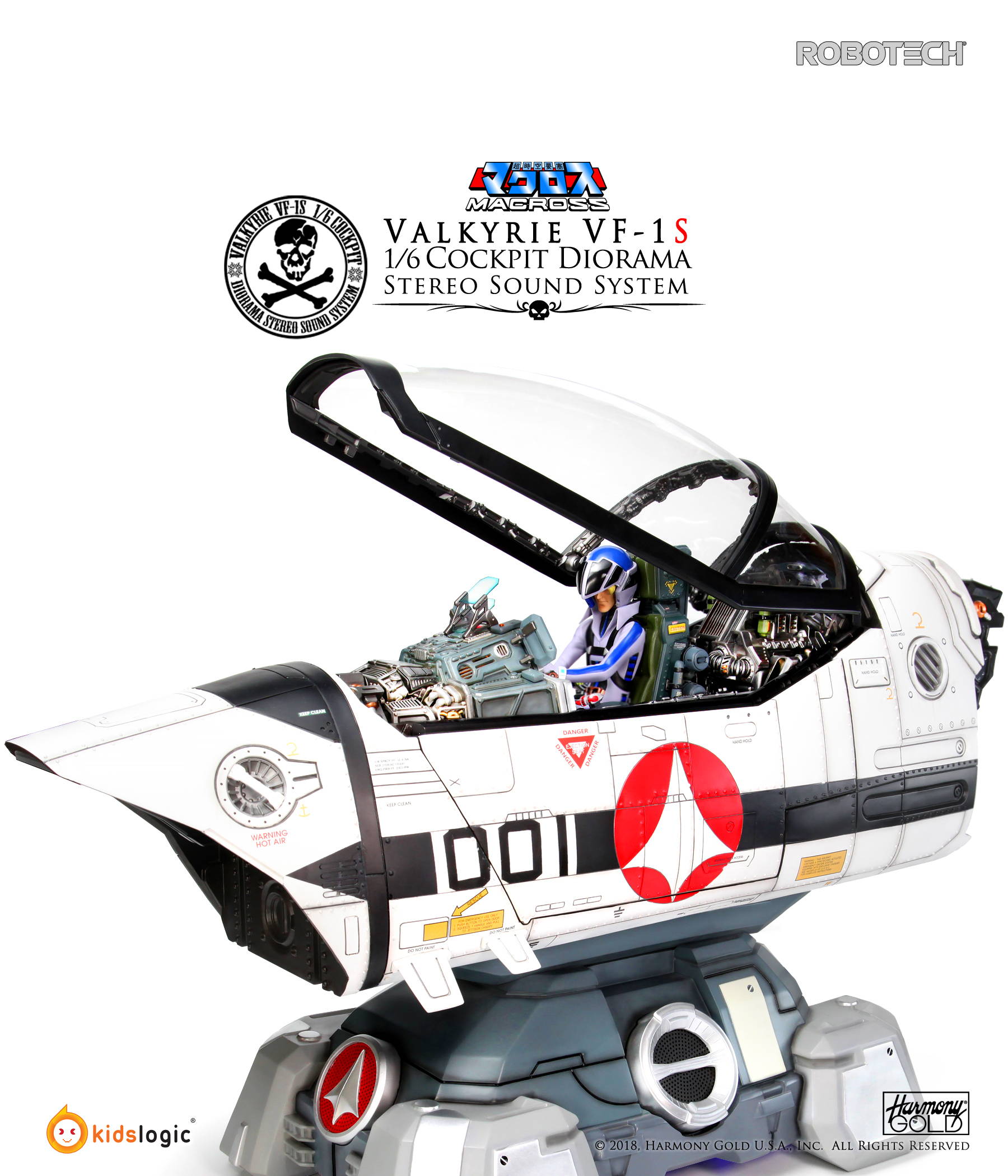 Limited to 400 pieces worldwide
Estimated Release Date: Q2, 2019 (Apr-Jun, 2019)
Price: USD 1,920.00
Deposit: USD 380.00
Estimated shipping charge: USD450.00 (Ref: N. America) (Final shipping charge will be quoted to customers before final payment)
The Estimate Released Date is for reference only. Final Release Date will be updated at this website from time to time. Release Dates are subject to change.
Subject to final approval. Prototype shown, final product may be slightly different. Product details can subject to change without further notice.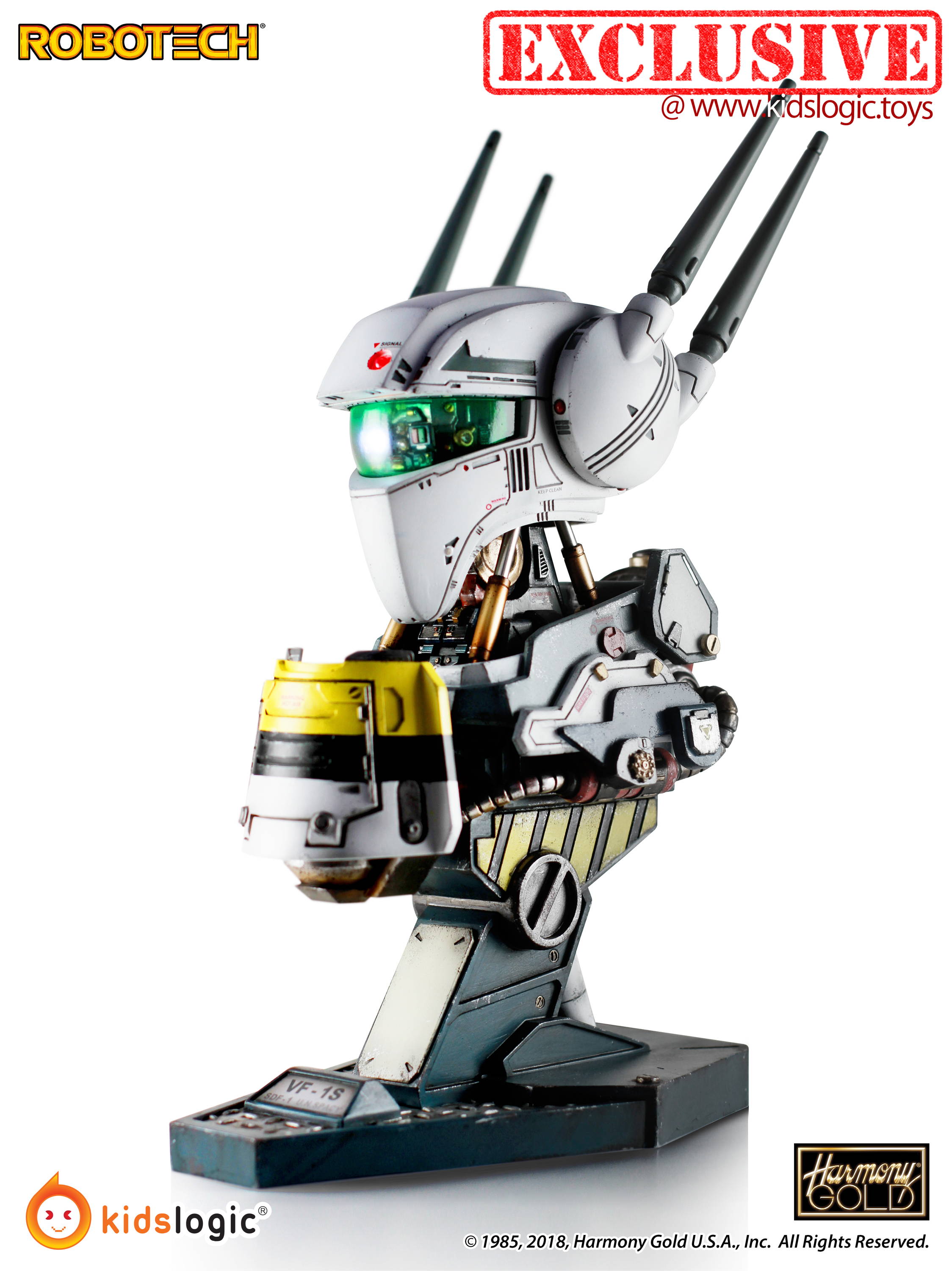 A free VF-1S from our 1/8 Mechanical Bust series will be given away along with each purchase of VF-1S 1/6 Cockpit Diorama, Only at Kids Logic webpage with limited time offering!
---
---
The video was filmed in full HD format, it detailly shows all the subtle sculpting of the cockpit and its size proportion, Also, the impact of the 30+ fading LED lights and the quality of the 2.3" LCD monitor are revealing in the dark scens.
---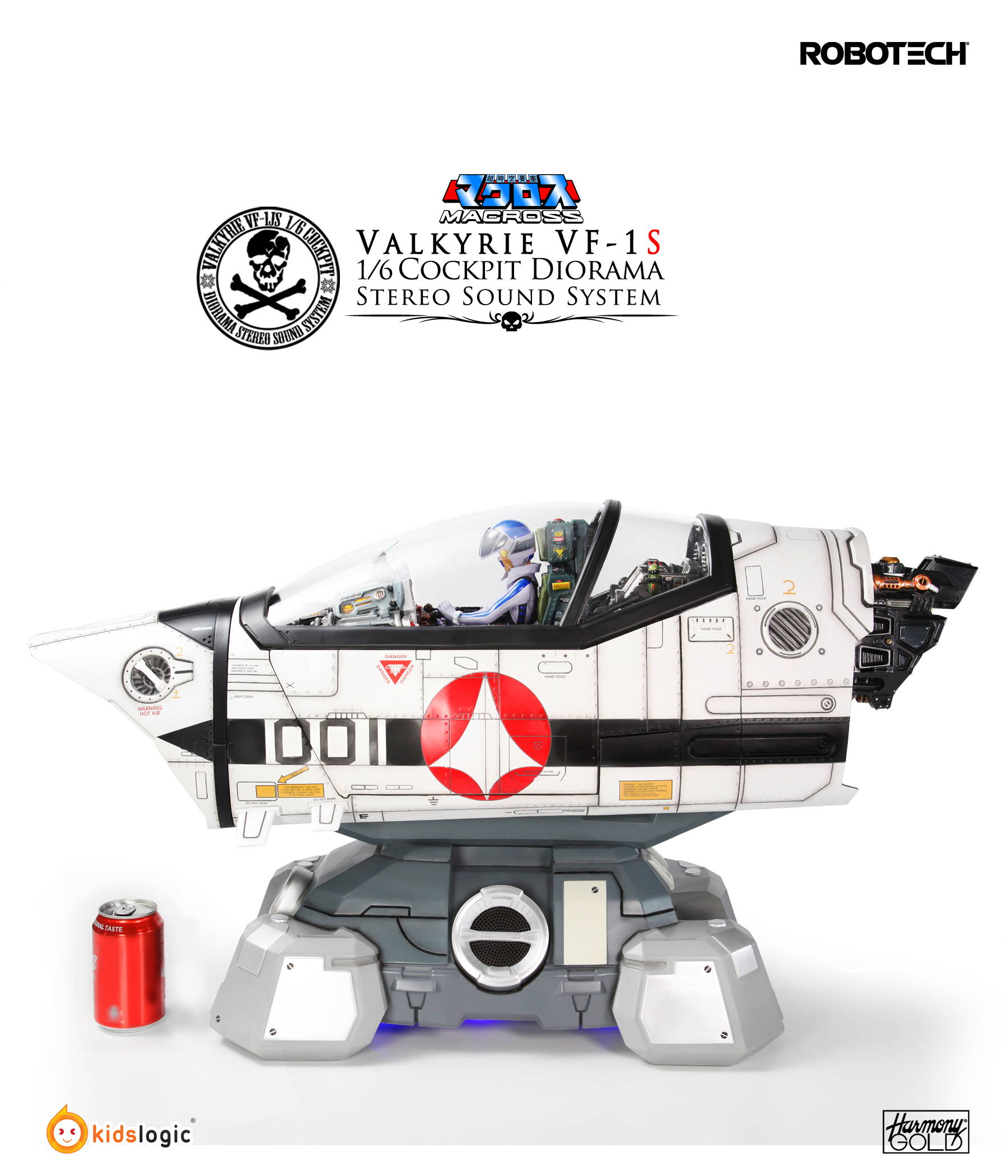 ---
The 1/6 cockpit is made of Polystone which is basically a shapable stone material, it tends to have the weight and density of stones but with way smoother texture, it makes the total net weight of the cockpit 45 KG!
Product Dimension:
100 X 60 X 30 cm
Packaging Dimension and weight:
Box 1: 67 X 45.5 X 42 cm (~14 kg)
Box 2: 110 X 50 X 43 cm (~28 kg)
Box 3: 67 X 30 X 42 cm (~5 kg)
---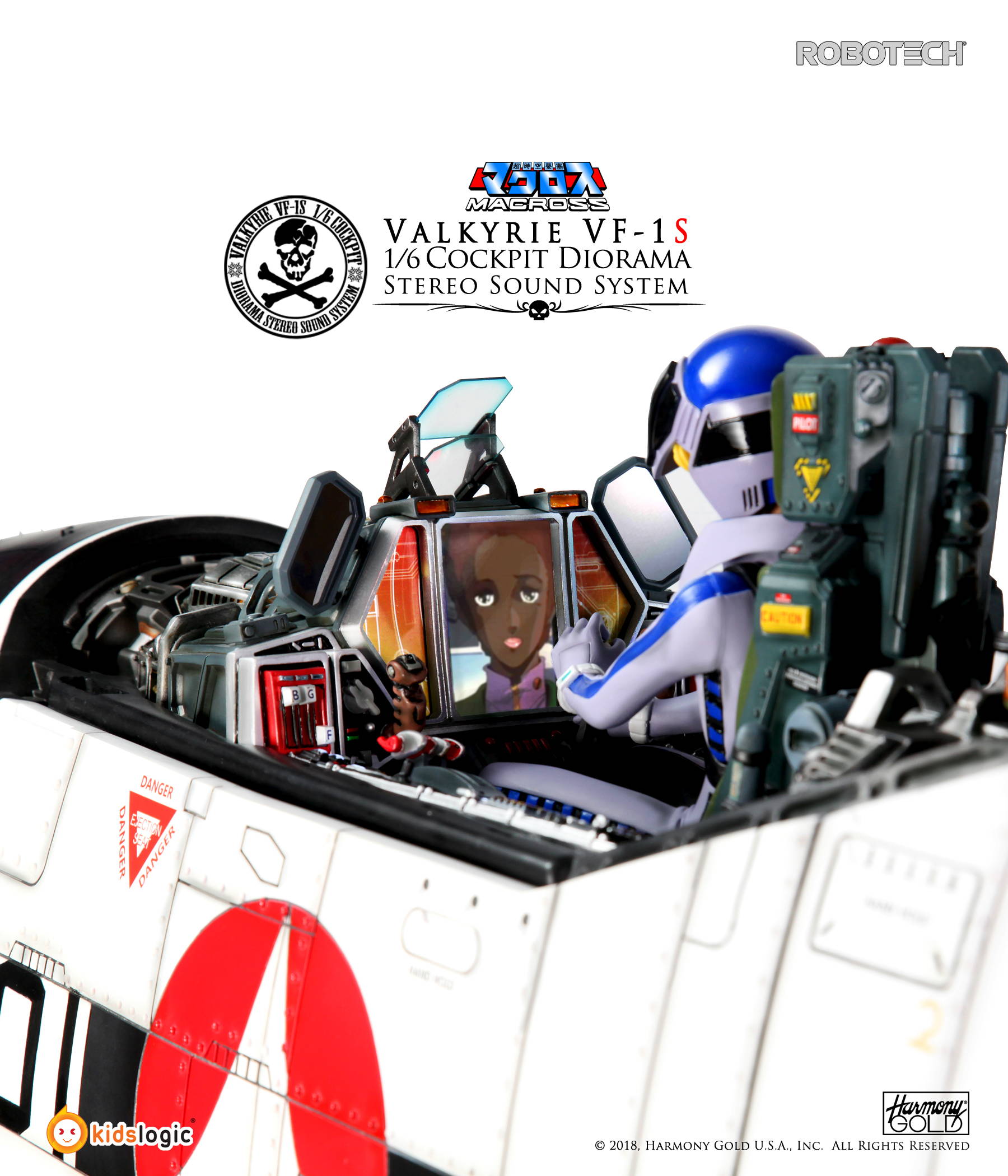 ---
The cockpit features a real 2.3" LCD monitor, in the classic animation, the screen functioned for the radar and the main communication with SDF-1. In the 1/6 Cockpit, a short video clip from the original animation is pre-installed in the video system, it rotates whenever the cockpit is on. Users can also easily playback thier own video on the screen by inserting another Mini-SD card into the reading slot. The video system supports video clips encoded with MP4 and AVI.
---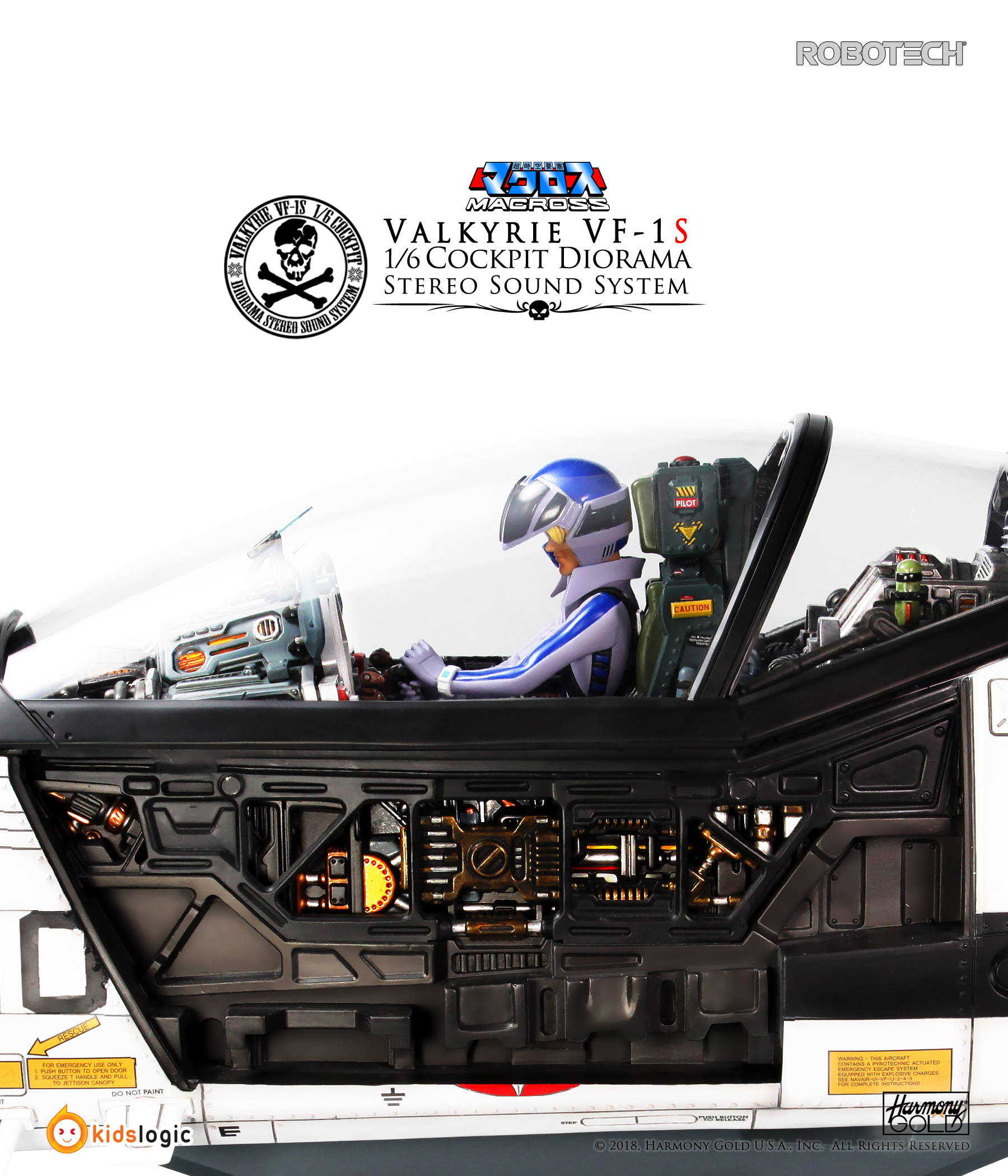 ---
The limited 1/6 VF-1S cockpit diorama stereo system is very profound, it is a digital audio system, it has a stunning LCD monitor inside the cockpit, the pilot seat is removable, many LED light, Exchangeable canopy removable pilot, fading light plus the left and right sides of the outermost shells/ armors are removable, once the shells are removed, detail mechanical sculptings and the realistic metallic painting reveal.
---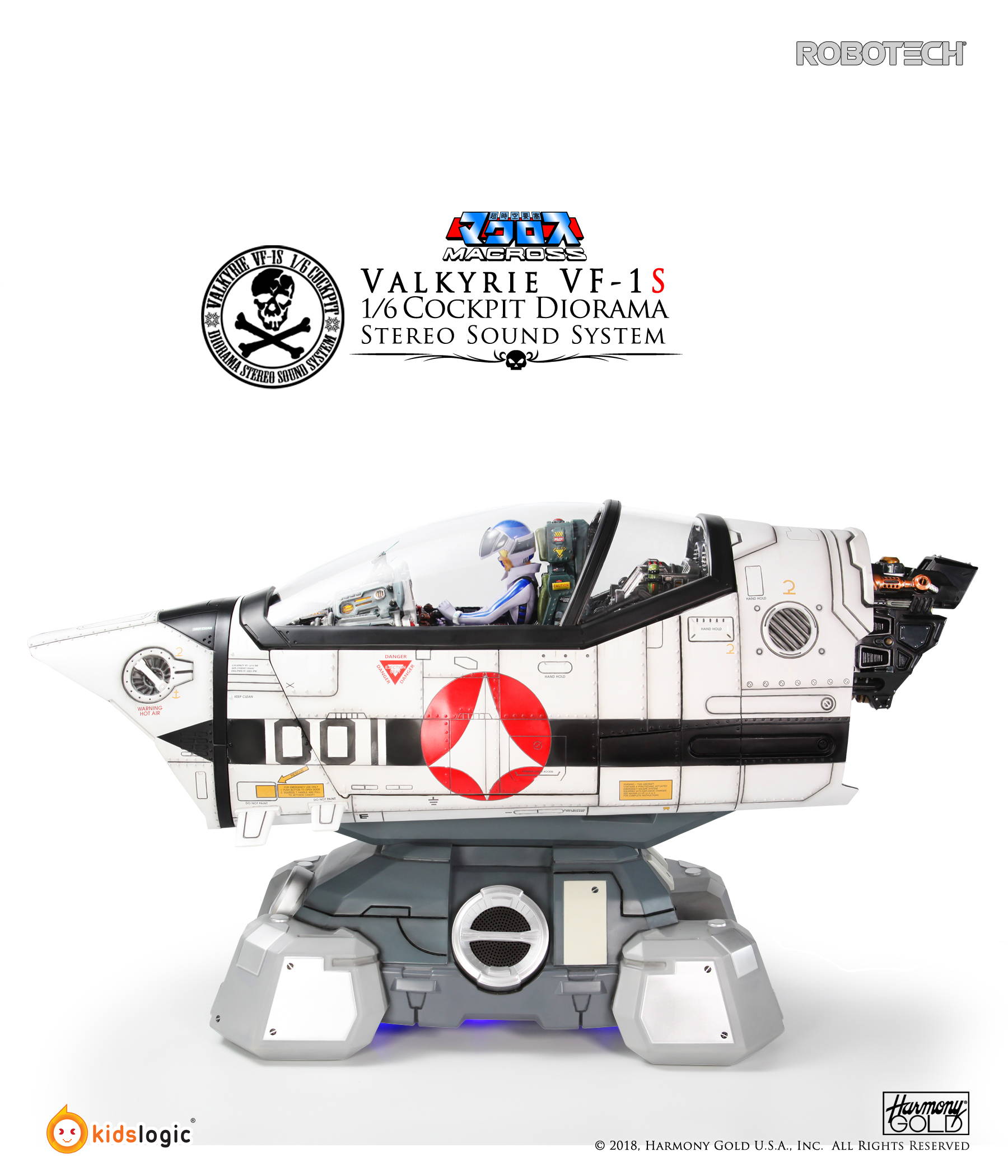 4 speakers
Digital Sound System
---
The base compartment of the 1/6 cokpit functions as a stand and a digital sound system, it contains 2 x full range speakers at the sides, 1 x super tweeter firing the front and 1 x superwoofer defusing the super bass from the bottom, purposely producing the full spectrum of the HD digital audio.
Connacting via Bluetooth technology, user may stream any audio files to the speaker system through a mobile phone or an Ipad, supporting formats widely from the compressed MP3 to the modern HD format of 24bit/192kHz sampling rate, the sound system is capable producing high quality audio with subtle details in 360 degree of digital surround sound.
---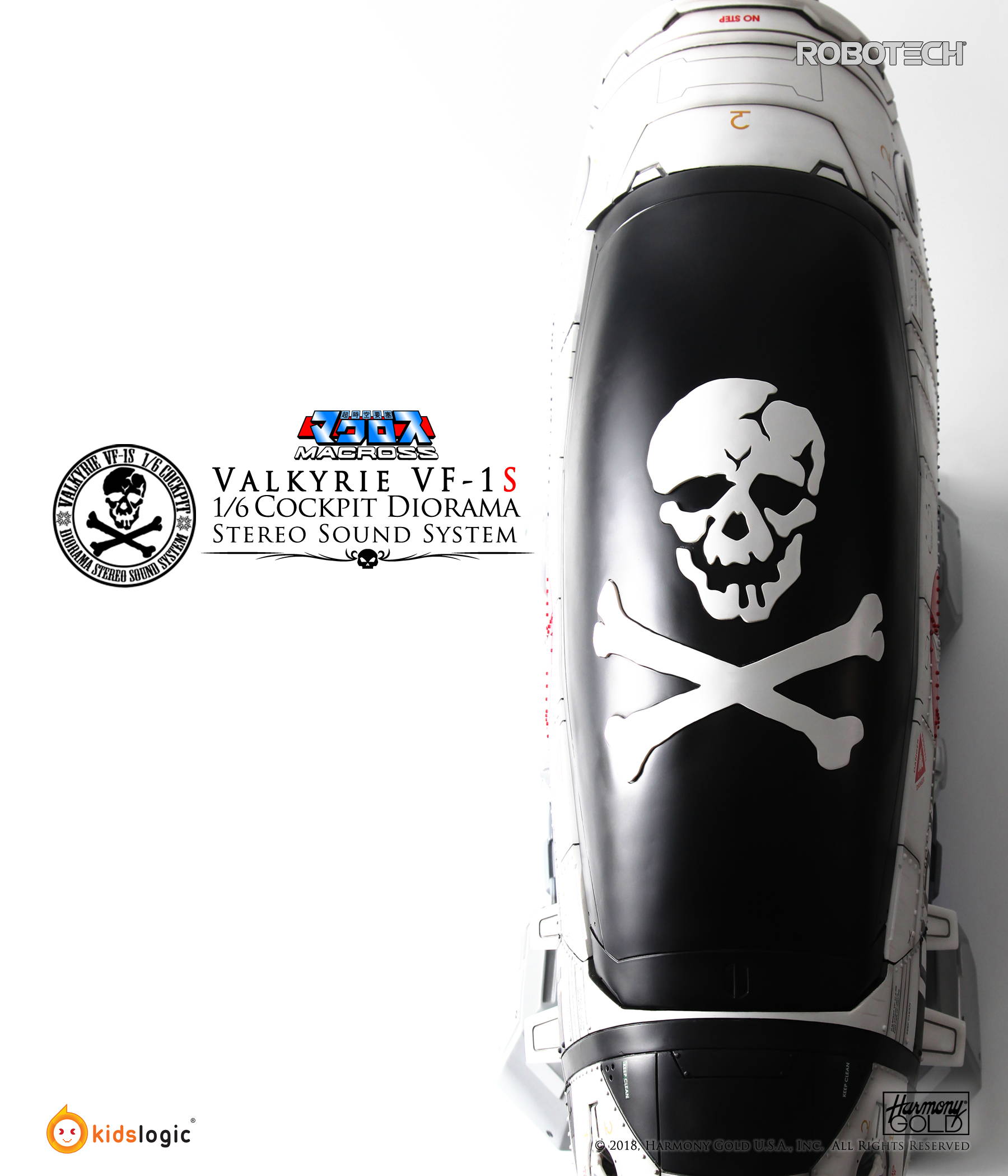 ---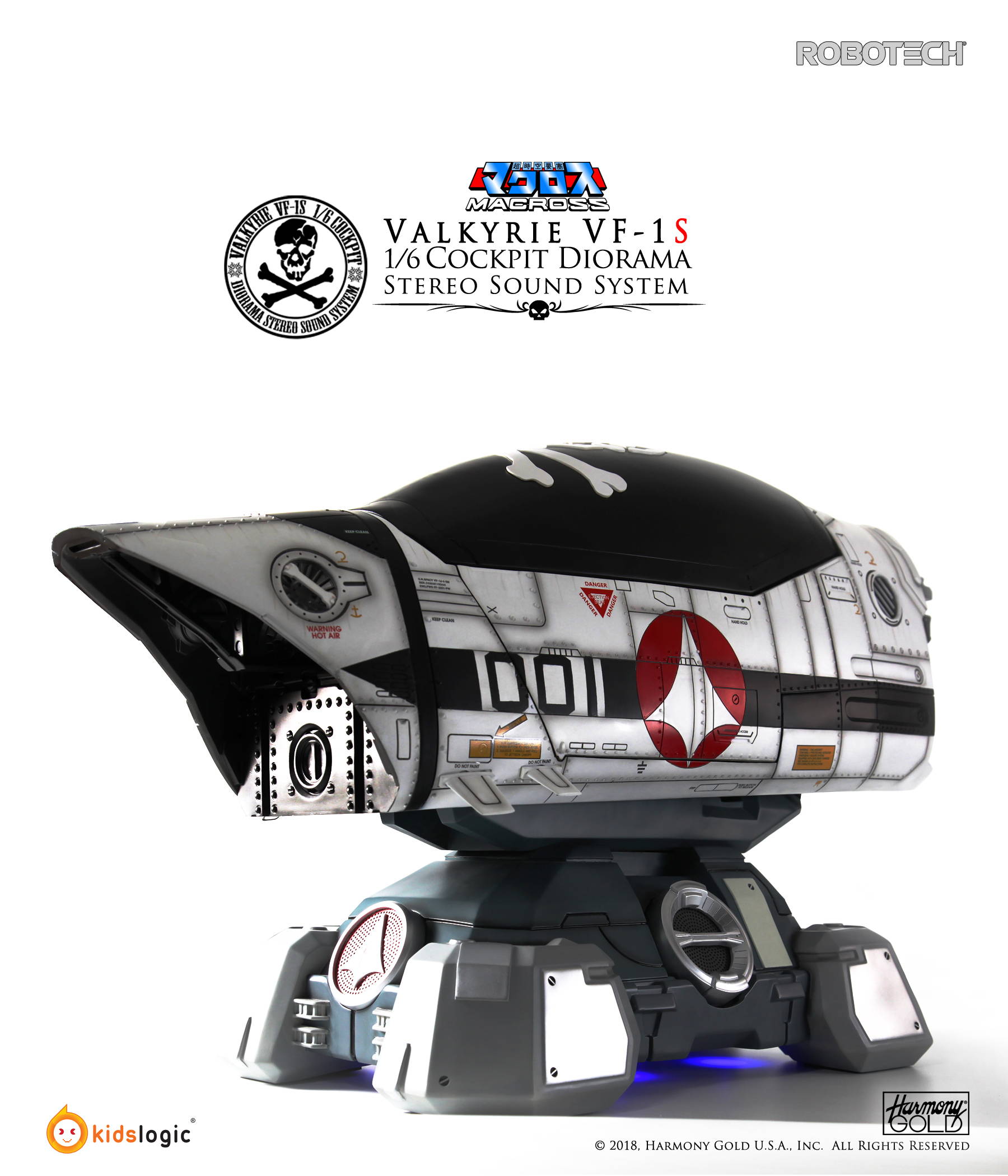 When VF mecha transformed into robot mode, the canopy will be concealed under a black protecting shield, VF-1S is famously reconzied by it's iconic skull pattern on the shield. Our VF-1S surely will include an extra skull shield, but the skull pattern is not printed, it is embossed on the black shield with 3D details.
---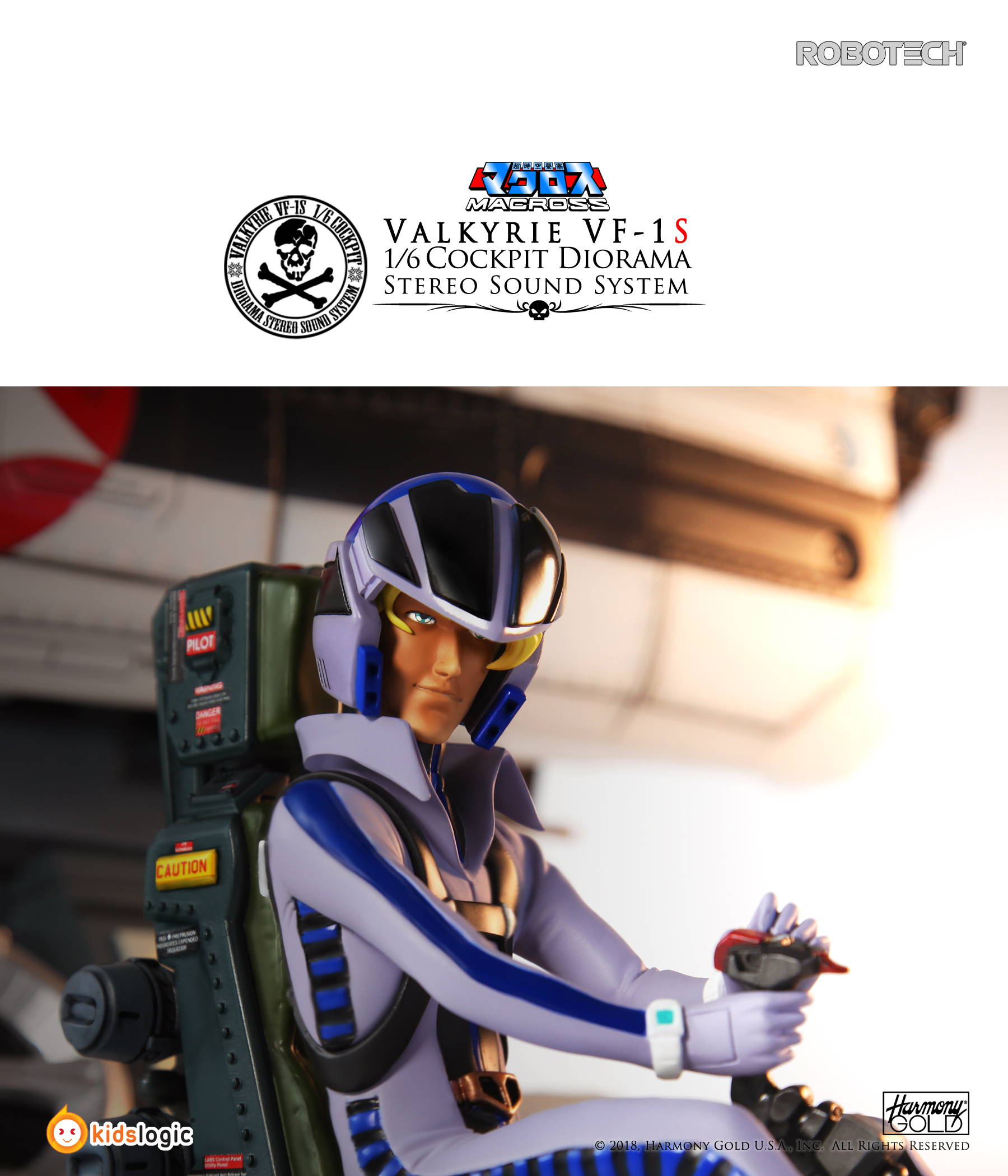 ---
Mr. Roy Focker may not be the lead character in the Macross universe but he wins the heart of Macross fan because of his talent and strong-willed character. Although he has the tendency of alcohol and womanizing, Rick Hunter still remained close friend with Roy and consider him as a big brother or even a teacher.
The limited VF-1S 1/6 Cockpit Diorama Stereo System surely will include a 1/6 scale of detail sculpted Mr. Roy Focker's figurine is, his posure can be choosen between driving mode and salute mode by changing the extra pair of arms, also the included helmet is transformable.
---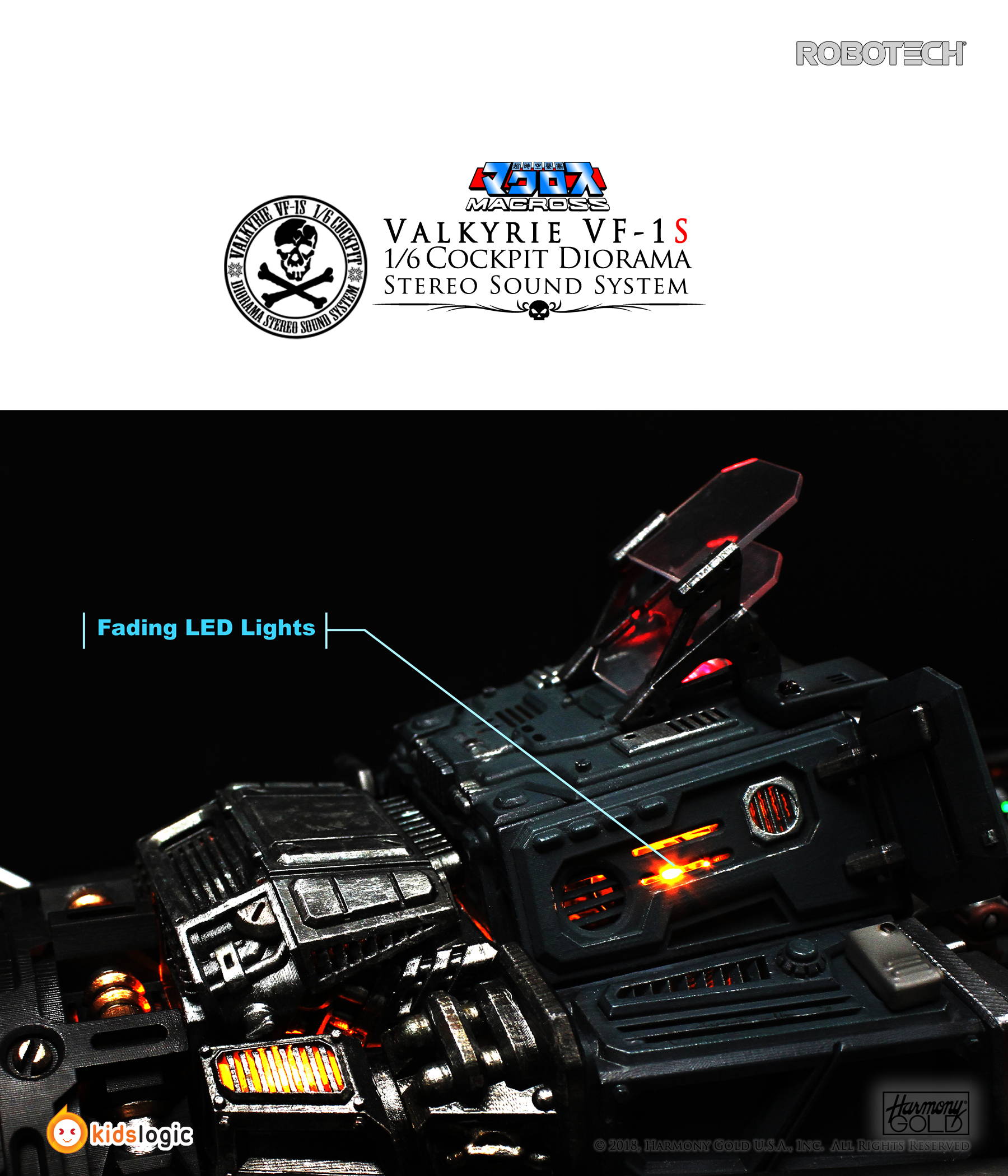 ---
Full set of micro computer controlled fading light is applied on the cockpit part of the product, over 30 LED has been used. Computer servo fading LED light is bettering on timing, light quality and stability. Please check the video above for the effect of the fading light in the dark scenes.
---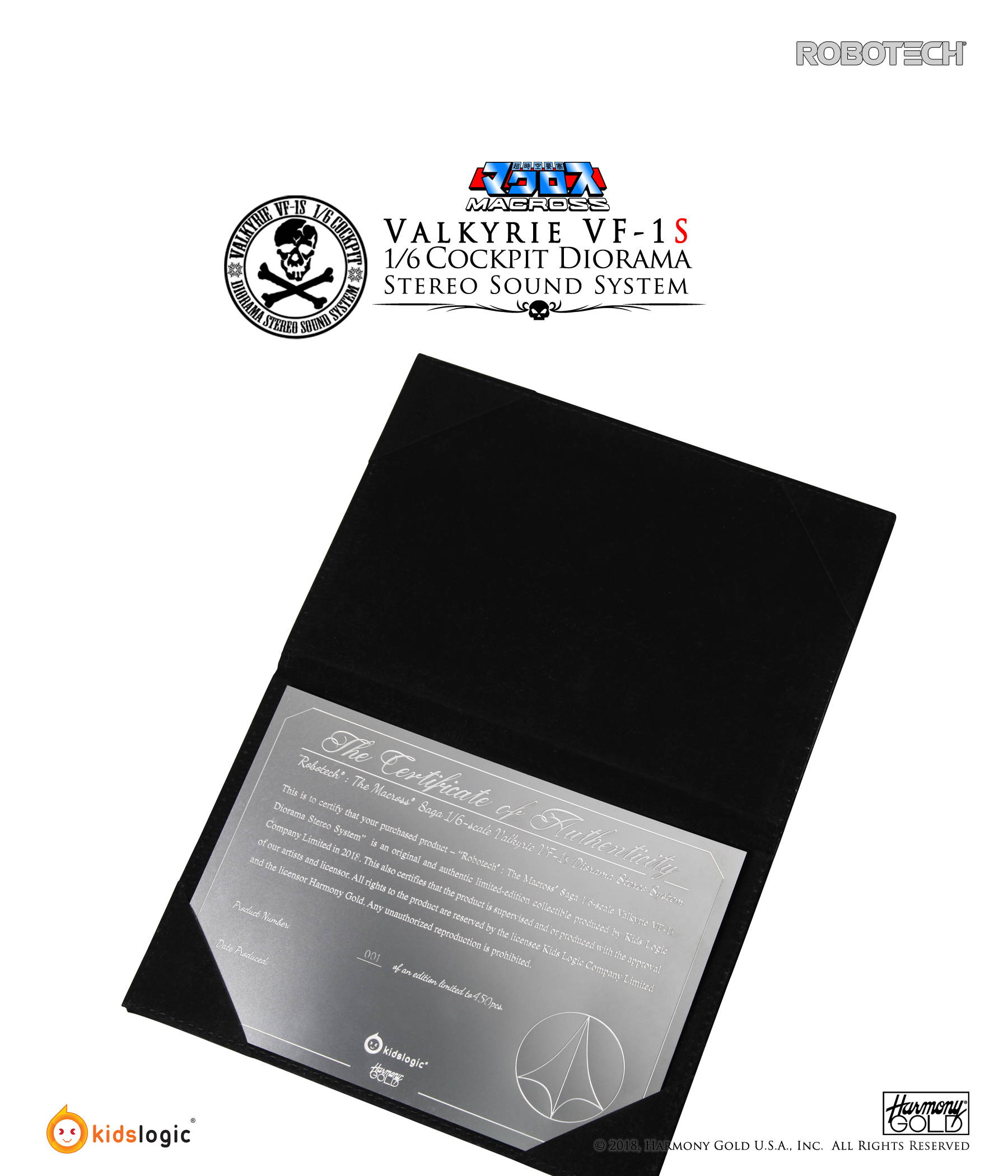 ---
The VF-1S 1/6 Cockpit Diorama Stereo System is limited to 400pcs worldwide, it is not only a piece of art in collectible history, it also memorizing how the classic animation affecting us during our childhood.
To show our courtesy, each of the VF-1S 1/6 Cockpit Diorama Stereo System comes with a metalic certificate which is protected by a special made elegant looking leather velvet folder, the production date and the production number (out 0f 400pcs) will be laser engraved on a piece of stainless steel,
---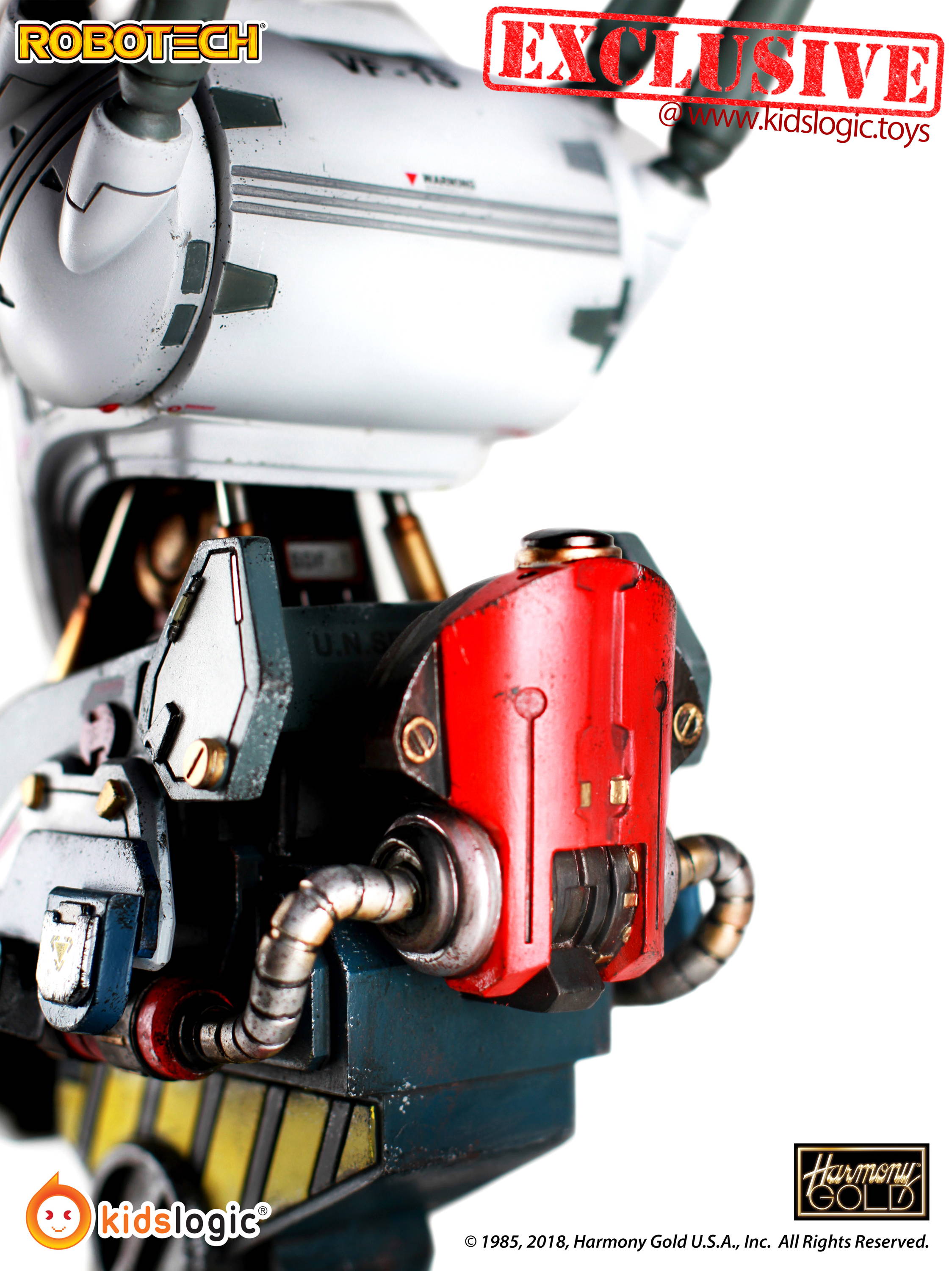 Exclusive for Preoder
@ kidslogic.toys
---
A free Robotech 1/8 Valkyrie VF-1S, Mechanical Bust Statue (ST05 ) will be given away along with each purchase of the VF-1S 1/6 Cockpit Diorama, this offer only valid at Kids Logic webpage with limited time offering,
More info about the VF-1S Mechanical Bust, please click here: https://www.kidslogic.toys/products/copy-of-robotech-mechanical-bust-series-1-8-valkyrie-vf-1s
---
---
Development Team

Creative Producer: Kenneth Kan
Cockpit Sculptor: Q Leung
Pilot Sculptor: Mick Lee
Painting Contoller: Mick Lee
Manufacturing Engineer: CM Wong
Marketing Manager: Stephen Chan
Photographer: Terrence Kwok

Liscensed by: Harmony Gold U.S.A. Inc
---
What payment options can I choose? And what about payment schedule?
Two payment options: 1. PayPal; 2. Stripe. Generally speaking, both options accept major credit cards such as VISA, MASTER and Armerican Express. We accept USD only.
Payment schedule:
1. Deposit of USD580 has to be paid at check out.
2. The rest of USD1400 will be collected before shipment is ready. Actual shipping rate will be calculated before shipment. For example, the estimated Fedex shipping cost to North America is about USD 450 (for volumetric weight 50kg). Please expect to settle these two payments before shipment.
Which shipping agent do you use? How much does it cost?
Fedex or UPS; Door to Door services
Can I cancel the order? Is the deposit payment refundable?
We are sorry that all pre-orders cannot be cancelled. Deposit is not refundable. Please make up your mind before placing your order.
When should I pay the final payment?
We will email all customers a confirmation letter before shipment. Customers will be noticed about the final payment amount and confirm the shipping address with us.
Can I get an update of your production progress?
Yes, please click "UPDATES & COMMENTS" tab and check our BLOG page of the related product. We will update the production process from time to time.
Do I have to pay import tax?
Please note that our company is located in Hong Kong. All shipment will be shipped directly from Hong Kong to your address. We include shipping invoice in each shipment with actual retail price listed, and the product category will be declared as "Adult Collectibles". For certain countries, your customs may charge you for imoport tax. All import tax will be handled by customers themselves. Thanks a lot for your understanding.
How long is the warranty?
Warranty excludes damage resulting from abuse, accident, modifications or other causes that are not defects in materials and workmanship. Warranty service for eligible repairs is available at no charge for six months from the date of product received.
What happen if my shipping address is changed after pre-order?
We will confirm the final shipping address with all customers when they settle the final payment. Please make sure your registered email is still valid so that we can reach you that time.
Which countries can you ship to?
All countries except Japan.